I Took Over My Friend's Dating App. This Is What Happened.
You might also like:
It's a crazy world, folks.
Firstly, I'd like to point out that a) she knew about it b) she surprisingly was eager to see what would happen and c) at this moment, I knew we were meant to be friends.
Let's start at the beginning.
My friend, a gorgeous 28-year-old, with hair long enough to rival Rapunzel, a personality that'll make grown men wince and all-round good human being, is (in her own words), a rubbish dater. We're talking neglected chats, failure to notice cheesy chat up lines and occasional disappointment when it comes to making plans. Sorry, just checking, are we still friends?
The usual connoisseur of dating apps due to her busy lifestyle, she's suffering from dating fatigue. So, me being her selfless (but really nosey) friend suggested an experiment. Let me:
- make your dating profile
- Swipe who you'll possibly match with
- Start the first message with any match you get (we're not going total catfish, hun)
Let the games begin.
Picking her profile pictures
As with all experiments, research is key. After flicking through her profiles on the various dating apps she has downloaded, it made me wonder:
1. Why is there no picture of her and Suzie Paws (aka her dog)?
2. Really, you included a semi-blurry group photo taken at an after works event?
3. What is a photo of you sandwiched between Darren and Joe doing in your dating profile, do you want to give off "Not Single" vibes?
However, my idea is not to be judgemental but rather a helpful godmother who shall nudge this Cinderella in the direction of her prince. Including staging the perfect photo.
In the pretence of "catching up", I tell her to meet me at a cute little café for brunch. She LOVES brunch, but rarely takes photos when we're at one despite its beautiful aesthetics. I quickly snap a candid shot of her smiling and show it to her. Impressed, she lets me upload it on her profile. Along with it, I also upload one where she's cuddling her dog and one where she's looking like a fierce boss lady.
Writing her bio
I know most of us look at photos first, bios later. For best results, I believe be strong on both. Now, mediocre friend I am. Shakespeare, I am not. Currently her bio stands at:
"Food enthusiast who loves dogs, looking for Mr right, not Mr right now."
It's alright I guess. I decide to combine what I love about her with some answers from quick -fire questions I threw at her.
"Optimistic chicken wings lover that loves a good night out, looking for someone that gives me joy."
It'll have to do.
Swipe session
Her normal tactic when it comes to swiping is, immediate swipe right if he fits her "type" i.e tall, dark, handsome and ambitious. Immediate swipe left if he's below 5ft 9. Since the power of the swipe belongs to me now, I want her to think outside the box. During the swiping session, I had a few thoughts:
- Why are there so many shirtless photos? Seriously, what's the aversion to wearing shirts?
- How are there only a limited amount of profiles with dogs in them. How?
- Come on, 5 mirror selfies in a row? Even I know that's a lot.
- Photos may be a 5 out of 10 but their bio? Easily 10/10
I swipe right on a brunch loving doctor, a tattooed PT who loves travelling, a bearded chef and a coffee business owner guy (looks-wise, her typical type but is only 5ft 7).
Replying to messages
Now this is where we weed out the good from the not so good. Good news, is "we" matched with everyone listed above. Sadly, tattooed PT and bearded chef guy did not respond back, despite my killer opening lines I must add.
Everyone who started off the conversation with a boring "hi" or "hey" had to wait. Let's face it, my friend deserves better than hi. My opening line did work out better with brunch loving doctor and coffee business owner guy.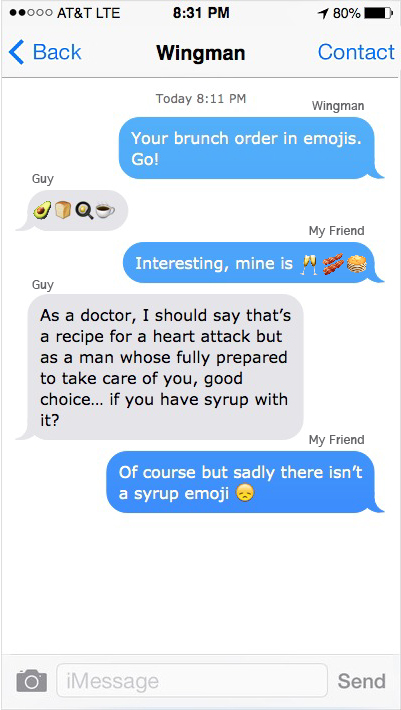 End result?
To my delight, she continued the conversation with both of them and even planned to meet coffee business owner guy for a date. (Let's hope the 5ft 7 thing isn't going to be an issue.)
Adjusting your expectations, a little bit, may open you up to someone potentially really special. Having someone, whether it's a friend, family member or just someone to remind you who you are, may give the confidence boost to get you out of that dating rut.
Luckily, to the relief of my friend, I wasn't too offensive in my approach so make sure whoever you get advice from, truly has your best interests at heart.
Anyone else need a wingman?
Sign up now with your wingman by downloading the Wingman® app in the App store and Google Play store. Available in the US and UK for IOS and Android devices.
All Gifs via Giphy