Swipe For Your Single Friends During Lockdown With Wingman App.
You might also like:
Make something good come out of 2020 with the perfect lockdown activity, help your single friends find love.
Let's be real. Dating is hard enough but 2020 has made it almost impossible. Thanks to the worldwide pandemic that is Covid-19, meeting someone great while being under Lockdown is difficult to say the least. We all know someone who is single and now more than ever is when we need to check in on them…and see if they need any help with their dating life. For selfless reasons, of course.
Wingman lets you do exactly that. YOU get to take the reins of your single friend's love life and find them their perfect match. By writing their bio and telling other singles why your single friend is worthy of a swipe right, you'll have a hand in finding them their next great match.
Here's 4 reasons why you should help a single friend out right now:
1) They need you!
While they may admit everything is fine, chances are they might be feeling a little lonely, especially if they are living alone. If they're lacking the motivation to date (who could blame them), this is your chance to step up and bring some positivity into their life. On Wingman, you can take the reins and tell potential matches why your single friend is awesome without them feeling burdened with introducing themselves. Escape loneliness together by doing something great!
2) Give them options
Secretly, we all know we can do a better job at finding a match for them. If they're tired of meeting the same type of people over and over again, it won't be such a bad thing to give them options. Wingman lets you swipe on behalf of your single friend and let you do the introducing without your single friend having to lift a finger. They can just watch the matches roll in.
3) Strengthen your friendship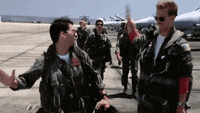 Good friends don't let friends date alone. Show them you care about them and want to actively help them in their pursuit for love. At a time when real connections seem as frail as our internet connections, working on something together can tighten your communications. You know you are REAL friends if your friendship has survived 2020.
4) Give them something to look forward to (when restrictions are lifted)
The year might not have turned out the way we wanted it to but that doesn't mean we have to stop caring. This is finally your single friend's time to pay closer attention to their dating life and what they truly want. Landing them a match and letting them decide if a relationship is worth pursuing or not in 2021 is something as a friend you can make happen. There is the extra bonus that if things progress further, you've got the glory of setting them up!
What are you waiting for? Get your single friend on board and download Wingman, the dating app to help friends get dates
All Gifs via Giphy