How To Date When Their Children Come As Part Of The Package
You might also like:
Our relationship expert, Dr Pam Spurr (on Twitter and Instagram @drpamspurr) gives us her tips on how to make sure your relationship can still be successful if they already have kids.
I've worked with countless singles and dating someone who has children is a very common theme that people worry about. Some singles have a strict rule never to date anyone with children and that's their prerogative. But for those who are more open-minded, they still have a number of concerns.
When you first meet someone it's easy to make a quick assessment about whether they're a suitable match. He or she mentions their child or children and that can be a deal breaker. You can't cherry pick with such a potential partner – you can't have them without also 'having' their children some of the time. Here are a few key thoughts to consider.
Communication is key
After my divorce, I was always open about how important my children were to me. If you sweep your responsibilities under the carpet – like saying your children spend "so much time" with your ex partner – you're bound to hit trouble. If you're doing it because you think that new person you've met isn't that keen on children, they are NOT the person for you.
If you meet someone with children, except the fact that it's quite natural to worry about how they will balance developing a new romance with you, with their responsibilities as a parent. And that's where clear communication comes in. Ask what would be most helpful, for instance, should you set up a regular night of the week to have a date? Will that help with their childcare?
Being straightforward with your communication by asking such questions, or making such suggestions, will really help cut through loads of potential problems!
Compromise over sharing time
It's probably going to be the case that his or her child care plans are set in stone. And for the relationship to stand a chance, you need to learn how to work around them from the outset. Otherwise, it's easy for resentment to set in. You resent the fact that he/she can't come with you to some event as your plus-one because they're looking after their child/children.
Look at the bigger picture, try to find compromises with special events or get togethers, but ultimately don't rock the boat over their childcare plans.
Be mindful of jealous feelings
Jealous feelings are fairly common. After all, the fact he or she has children shows you that they've been in a serious relationship before you came along. It's crucial to be mindful of such feelings of jealousy. Remind yourself that you also have a past relationship track record even if you don't have children.
Also beware of feeling jealous towards the children themselves. You are not in competition with them so challenge such feelings as being pretty natural but also ones that need to be dampened down quickly.
You'll never be their dad/mum
Over time you will hopefully get closer to his or her children and might even feel part of the family. That's a fantastic position to develop but never let unexpected motivations like wanting to be loved/adored by their children to drive your behaviour. Think of things being more akin to you becoming a role model – perhaps like being an uncle/aunt to their children. And accepting you'll never be their dad/mum.
Feelings can get complicated for you, him/her and the children
You may have the best intentions for developing a great relationship with your new partner and the children but it's not that simple. It's crucial to realise that while your relationship may be an exciting beginning for you and him/her, for the kids it's an ending! It puts a full stop on their hopes that their parents get back together. They have a right to feel unhappy at this loss. If you can accept their feelings are understandable, sooner or later they'll come round to accepting you.
In my next column I'll provide you with some top tips for taking this new relationship the full distance.
Good luck and happy dating, Pam x
Sign up now with your wingman by downloading the Wingman app in the App store and Google Play store. Available in the US and UK for IOS and Android devices.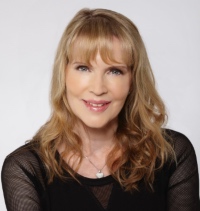 Follow Dr Pam on Twitter and Instagram @drpamspurr and at drpam.co.uk
Check out Dr Pam's art gallery and shop for gift ideas, fantastic for a loved one: https://drpam.co.uk/art.php
Photo by August de Richelieu from Pexels