6 ways to help your single friend before Valentine's Day
You might also like:
Find the balance between meddling and listening.
Cue the countdown to Valentine's Day.
It's finally your month, cupid.
Whether you want to celebrate being single together or help the single friend in your life, here's 6 ways to make Valentines or rather Palentines great.
1) Play cupid with your mutual friends
If you have a single friend/sibling, chances are your other friends have one too. Don't try to palm your friend off to the first single person you hear about because, let's face it, they deserve better than that. But if there's someone that sounds ideal for your friend, there's no harm in asking them both if they'd be up for meeting each other. Use your connections to spark a connection for others.
2) Ask them their dating resolution for this year
Do they want to laugh more? Do they want to feel more secure? Do they want to have more fun? Whether they've recently come out of a relationship or been single for a long time, helping your single friend find out what they want from their dating life this year, can help you and them, find someone who can potentially fulfil that.
3) Work out how they prefer to date
Do they prefer offline vs online dating? Crowded bar or intimate setting? If you're forcing them to go out and meet people if they're really not up for it, then you're wasting both of your time. Reach a compromise and let them decide how they want to meet people and support them in a way they need.
4) Plan a day/night out
We can all agree that meeting someone meaningful on a night out can be a hit or miss, but when you have a wingman by your side, it can make it easier. Pick a setting they are comfortable in and don't be afraid to strike up a conversation with someone you think might be good for your friend. It's less pressure when it's not about you.
5) Have a friend-ervention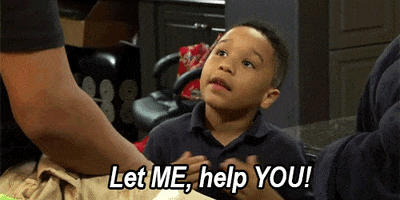 Valentine's day is your excuse to convince them to date someone outside their type. Help them step outside the status quo. They can go back to dating tall, dark and handsome next month if it doesn't work out.
6) Revamp their online profile
Does their bio truly reflect who they are and what they're looking for? If not, then it's time to step in. Why not add a line from you as their official wingman so potential matches know, as a friend, you've endorsed them? Just make sure it's less self-promotional and more honest.
If they really want to spend Valentine's day solo, then respect their decision. Make it a Palentine's day instead, a day to focus on your friendship, whether it's the day before the 14th or after.
Sign up now with your wingman by downloading the Wingman® app in the App store and Google Play store. Available in the US and UK for IOS and Android devices.
All Gifs via Giphy